2023 Global Drug Bioavailability Enhancement Summit
FEATURED SPEAKER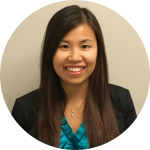 Ellie Au, Ph.D.
Group Lead, Product Development, Catalent

Session Title: Development Considerations for Lipid-Based Formulation (LBF) from Preclinical Toxicology to Clinical Studies
Session Date: Tuesday, June 27, 2023
Session Time: 11:35am – 12:15pm EDT
Abstract/Key Learning Objectives:
What determines an API as a good candidate for LBF?
How to leverage the advantages of LBF in early development to expedite candidate selection of poorly soluble drugs?
Why one shouldn't rule out LBF in preclinical studies?
Key consideration in dosing lipid formulations to preclinical models and strategy to enable high-dose preclinical toxicology study.
How to successfully transition a preclinical LBF to a viable clinical dosage form?