FEATURED SPEAKER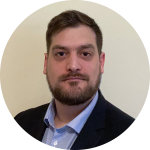 Steven Winling
Scientific Advisor, Science & Technology, Catalent

Session Title: Improving the Odds of Success in Developing Oral Protein Degraders: A CMC Perspective
Session Date: Thursday, June 1, 2023
Session Time: 2:35PM – 3:05PM CET
Session Track: Technology & Innovation
Abstract: Key challenges in developing bifunctional protein degraders are due to their unconventional structures and distinctive physicochemical properties, often requiring enabling formulation technologies to achieve oral bioavailability. This presentation will discuss how developability assessment strategies for protein degraders might differ from typical small molecule development. Catalent's tailored developability assessment for bifunctional protein degraders can help predict viable formulation and drug delivery strategies for lead drug candidates to reach their true potential. In addition, an array of specialized downstream capabilities and CMC strategy that drives success at each milestone from development to clinics will also be presented.