PROVIDING THE MOST STABLE CRYSTALLINE FORM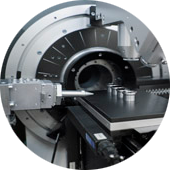 Each solid-state form of an API has unique physicochemical properties that can have a profound impact on bioavailability, stability, and manufacturability. By discovering and characterizing their diversity of solid-state forms, it becomes possible to select an optimal form that displays an appropriate balance of properties that is critical for successful preclinical evaluation and product development, as well as robust manufacturing processes.
Identification of the optimal solid-state form for development relies on several factors:
A clear understanding of the target attributes of the API and drug product
Design and execution of an appropriate screen to produce solid-state forms of importance
Detailed evaluation of relevant solid-state forms
Assessment of the risk-benefit profile of the candidate solid-state forms against the target attributes.
Catalent has recently introduced OptiForm® API – a state-of-the-art solid-form screening service that can efficiently and effectively address all of these objectives. It combines industry-proven workflows and an experienced scientific workforce with high-throughput platform technologies to provide customers with a rapid and material-efficient route to solid-form discovery and selection.
We stand behind our industry expertise, platform, technologies, and screening workflows to provide you with the OptiForm® API guarantee. Bring us your compound, and we will identify the most stable crystalline form.
API screening platform that will help you speed your development and optimization of drug molecules
Developed and refined over the past ten years with GSK
High throughput platform for salt, crystal-form, and co-crystal screening
Applied to more than 500 compounds, spanning from early-stage lead compounds through launched products
Provided by a team of diverse and experienced scientists
Salt form discovery

HT screening capabilities
Scale-up capabilities (up to 1L)
Preformulation expertise

Crystal form discovery

HT screening capabilities
Focused and comprehensive scope
Stability relationship assessment

Co-crystal discovery

HT screening capabilities
Extensive library of reagents
Crystal-engineering expertise

Crystallization of Amorphous

HT screening capabilities
Extensive array of diversity elements

Problem solving

Characterization/identification of new phases
Phase quantitation
Contaminant analysis

Broad analytical capabilities