Catalent is the global leader in enabling pharma, biotech, and consumer health partners to optimize product development, launch, and full life-cycle supply for patients around the world.
With broad, deep-scale and expertise in development sciences, delivery technologies, and multi-modality manufacturing, Catalent is a preferred Contract Development and Manufacturing Organization (CDMO) partner for personalized medicines, blockbuster drugs and consumer health brand extensions.
Catalent helps accelerate over 1,000 partner programs and launch over 150 new products every year. Its flexible manufacturing platforms at over 50 global sites supply over 80 billion doses of nearly 8,000 products annually. Its rapidly growing expert workforce exceeds 18,000, including more than 3,000 scientists and technicians. Headquartered in Somerset, New Jersey, Catalent, Inc. (NYSE:CTLT), is in S&P 500® company, and generated nearly $5 billion in revenue in its 2022 fiscal year.

MORE PRODUCTS. BETTER TREATMENTS. RELIABLY SUPPLIED.™
Our Mission is to develop, manufacture and supply products that help people live better and healthier lives.
Vision
Our vision is to be the world's most trusted, reliable and innovative drug development and delivery partner by upholding the highest industry standards and exceeding customer expectations, while driving strong, sustained growth for the company.
Our Values
Patient First
We put patients at the center of our work to ensure the safety, reliable supply and optimal performance of our products.
People
We are committed to the growth, development and engagement of our people.
Integrity
We demonstrate respect, accountability and honesty in every interaction.
Customer Dedication
We strive to exceed our customers' expectations every day.
Innovation
We create innovative solutions, employ superior technologies and continuously improve our processes.
Excellence
We have a passion for excellence in everything we do.
Our Origins: Inventors Then
In 1930, Robert Pauli Scherer, invented the 'rotary die' process for softgel encapsulation from the basement of his home in Detroit, Michigan. The revolutionary breakthrough transformed softgel production from a manual method to a commercial, high-volume process. His invention was granted a patent in 1933, and until his death in 1960, Mr. Scherer was awarded a further 52 patents.
In 1955, R P Scherer's experimental machine was placed in the Smithsonian Institution in Washington D.C. The process of production of softgel capsules is still widely used and since its introduction, R P Scherer, now a part of Catalent, has become the world's leader in softgel innovation and largest global manufacturer of softgels.
Building on the history of innovation, in 1982 our team of formulation experts developed Zydis®, the pioneering technology in the fast dissolving range of solid oral dosage forms. Since then Zydis has been regarded as best in class orally dissolving technology and has enabled more than 20 pharmaceutical and over the counter medications.
Innovators Now
In 2003 Catalent expanded the capabilities for biologic drugs and acquired gene-insertion technology used in the manufacturing of biopharmaceuticals, which became gene product expression - GPEx® technology. This technology has been utilized in over 50 clinical trials and 10 commercially approved products. Catalent acquired Redwood Bioscience in 2014, and added SMARTag™, antibody drug conjugate (ADC) and bioconjugation technology, that enables site-specific, controlled drug-protein conjugations. In 2017 Cook Pharmica joined the Catalent family and our new drug product fill/finish services have enabled 19 products launched to the market.
Over the years, we have built an expansive array of capabilities for oral drug development. In 2011, we acquired the molecular optimization platform from GlaxoSmithKline, which is now know as OptiForm® API Salt Form Optimization.
Understanding the needs of developers seeking to formulate ever more complex molecules, our team of formulation experts developed the OptiForm® Solution Suite platform for quickly assessing viable formulation pathways across multiple solubility-enhancing technologies. Since its launch, OptiForm Solution Suite has received multiple industry awards and is regarded as a trusted program for assessing the optimal form of a candidate molecule, enhancing the bioavailability and delivering cGLP and cGMP materials for testing.
With a legacy of expertise in lipid-based drug delivery, industry-leading particle size reduction capabilities, and the recent acquisitions of early development specialists Juniper Pharma and Pharmatek and their world-class proficiency in solid dispersions (spray drying and hot melt extrusion), Catalent has brought together the best set of tools, expertise and technologies in the industry to enhance the bioavailability of molecules which might otherwise have been challenged to advance to clinic and beyond.
Our product development expertise has lead to formulation advancements which have expanded the applications of our industry-leading softgel technologies platform to enable formulations that can enhance the patient experience and product safety in multiple ways. We developed OptiGel® Lock as an abuse-deterrent technology for controlled substances, leveraging the inherent properties of softgel technology to enable and prevent misuse while delivering needed benefits to patients. With the growth of large molecule therapies, particularly proteins and peptides, our team innovated OptiGel® BIO as a way to deliver these molecules orally, again leveraging softgel technology to both stabilize and enhance absorption of large molecules while potentially greatly improving patient adherence and compliance.
The rapidly changing nature of clinical trials provides opportunities for Catalent to support the needs of our customers today and the future. From our FastChain® demand led supply service, to complex cold chain logistics for sensitive biologics to direct-to-patient shipments, we are prepared to exceed our customers' expectations on all dimensions. An important service that we offer which many of our smaller customers have tapped into with great success is our clinical supply management services. With CTSuccess™, we proactively seek to understand clinical supply challenges a sponsor may face based upon their study design and what steps we can take to address those challenges even before the study starts. Our experts work in close collaboration with our customers to establish a sound clinical supply strategy to get off to the best possible start and keep their study on track. With nine clinical supply facilities and 50+ depots across the globe, Catalent can help bring your product to the clinic anywhere in the world. In April 2019, Catalent opened its second facility in Shanghai, China. The new facility, located outside of the free trade zone (FTZ) in Tangzhen, is near both Catalent's existing Waigaoqiao FTZ facility and China's Zhangjiang Pharma Valley area. Catalent Clinical Supplies two facilities located both inside and outside the FTZ offers our customers flexibility, convenience and streamlined logistics in support of the growing number of trials being conducted in the region.
To learn the latest expert insights on technologies and capabilities for pharmaceuticals, biologics and over the counter products, please visit https://www.catalent.com/expert-content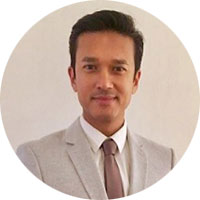 Catalent scientists are making a difference helping patients and their families live better, healthier lives. Get to know our scientists, access their works and learn what drives them to help lead the way into a new era of drug development, formulation, and treatments. Learn more.
Catalent. More products. Better treatments. Reliably Supplied. ™
We have over 1000 products in development at any time and have extensive partnerships with pharmaceutical and biopharmaceutical companies of all sizes, from small or virtual organizations to large multinationals. We scale our approach according to what our customers need for their program to be a success.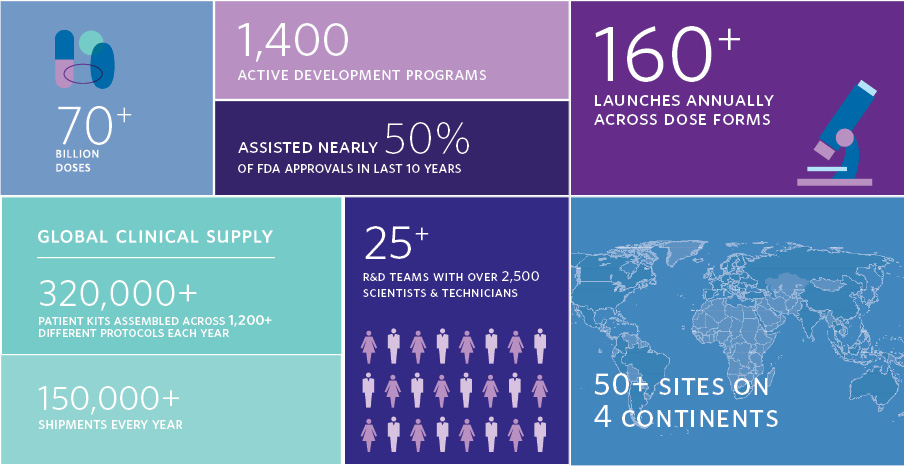 Catalent has created over 70 billion doses. Catalent has 1,400 active development programs. Catalent launches over 160 dose dorms annually. Catalent has assisted in 50% of FDA approvals in the last 10 years. Catalent assembles over 320,000 clinical supply patient kits assembled across over 1,200 different protocols every year. Catalent has over 150,000 shipments every year. Catalent has over 25 R&D teams with over 2,500 scientists and technicians. Catalent has over 50 sites on four continents.
Founded in 2012, the Catalent applied Drug Delivery Institute was designed to connect technology experts, pharmaceutical innovators, organizations, and academia. Fostering collaboration on major issues pertaining to drug development, formulation, and delivery technology, with a common goal to accelerate adoption, and improve clinical outcomes, medication delivery profiles, patient adherence, and treatment efficacy.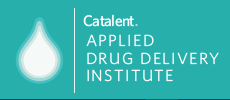 Catalyst + Talent
Our name combines these ideas
Your talents, ideas, and passion are essential to our mission: to develop, manufacture, and supply products that help people live better, healthier lives.
Hear how our employees impact people's lives on a global scale every single day.
Visit our YouTube Channel for more short videos on all our products and services
Personal Initiative. Dynamic Pace. Meaningful Work.