Introducing ProteoSuite℠ Oral
A Comprehensive Oral Developability Assessment and Drug Delivery Solution for Targeted Protein Degraders
Targeted protein degraders have the potential to revolutionize new small molecule therapies, by leveraging the cell's own protein degradation pathway to rapidly remove unwanted proteins. They also open access to formerly undruggable protein targets and have the potential to overcome tumor resistance. However, because of their complex structure, targeted protein degraders (TPDs) are often well beyond Lipinski's Rule of 5 (bRo5) with low solubility and permeability, so developing orally bioavailable candidates is challenging. This is further complicated because TPDs often require advanced characterization, formulation enabling technologies, and potent handling expertise to facilitate their development and manufacture.
Introducing NEW ProteoSuite Oral, a comprehensive toolkit that offers a developability assessment specific to protein degraders to help identify orally bioavailable candidates and leverages an array of specialized capabilities to select the right formulation to efficiently get to clinic and beyond. The tailored assessment part of ProteoSuite Oral is built upon the company's experience developing multiple protein degrader programs, and leverages TPD-specific developability models that evaluate physicochemical properties and molecular descriptors of protein degraders, combined with the innovator's drug metabolism and pharmacokinetics (DMPK) and preclinical PK data to enable selection of orally developable candidates, and define the right formulation pathway. Moreover, Catalent has specialized downstream CMC capabilities and expertise to help efficiently progress a candidate molecule to the clinic and beyond.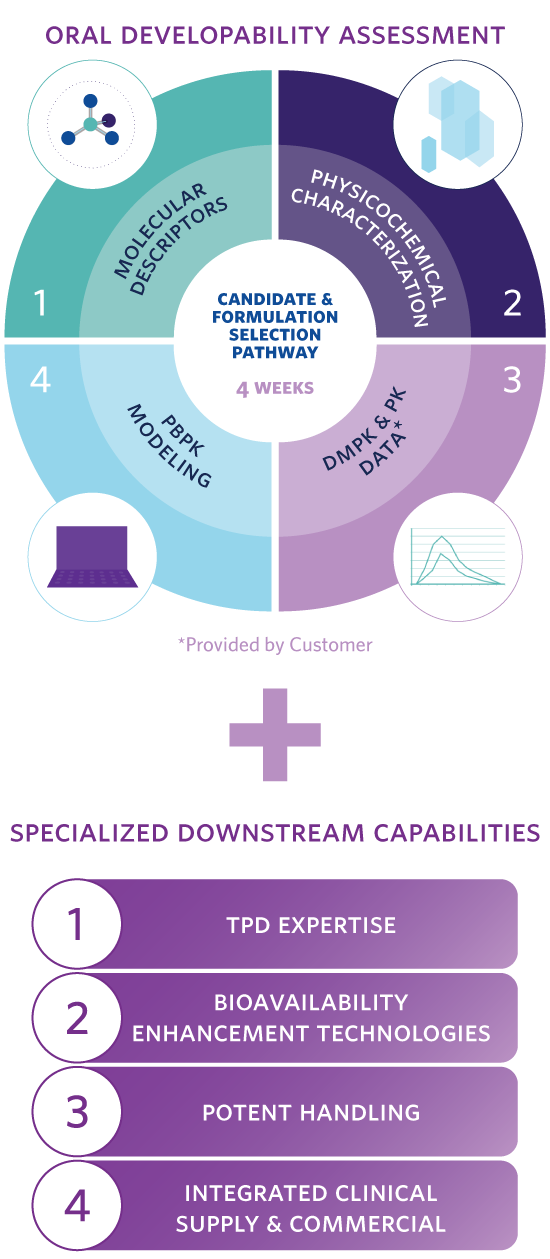 Improves the likelihood of oral TPD development success by utilizing specialized assays and developability models that evaluate bRo5 oral drug candidates
Enables rapid and rational shortlisting of better oral drug candidates
A systematic, scientific approach that reduces the risk of formulation failure
Allows rapid prototyping of optimal formulations for the clinic
Access to a global network of technical expertise in PBPK modeling, molecule characterization, bioavailability enhancement, formulation development, and scaleable manufacturing
Integrated potent handling capabilities from clinical development and supply to commercial.
HOW DOES PROTEOSUITE ORAL WORK?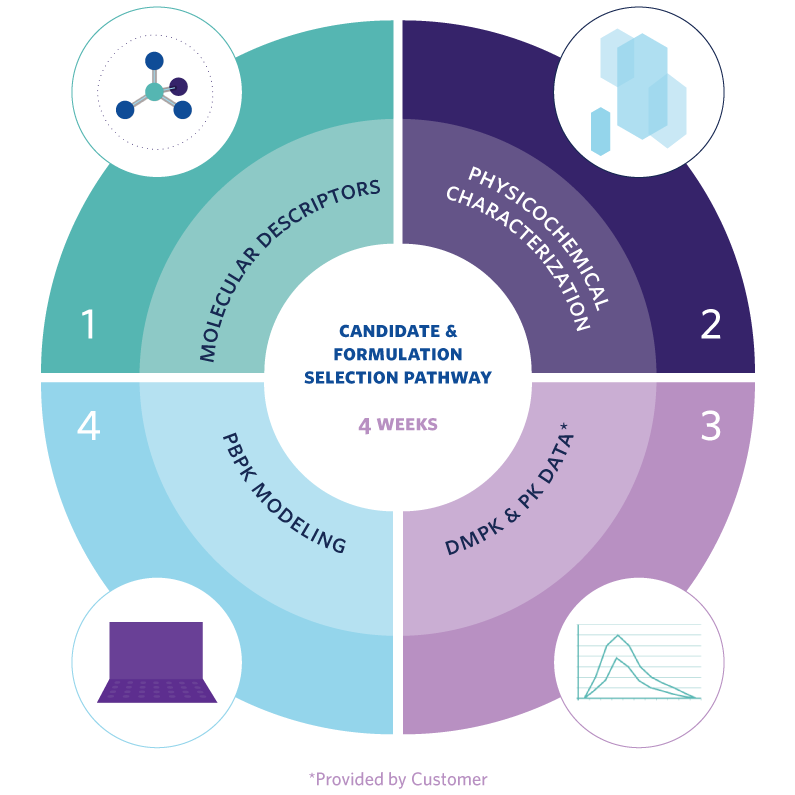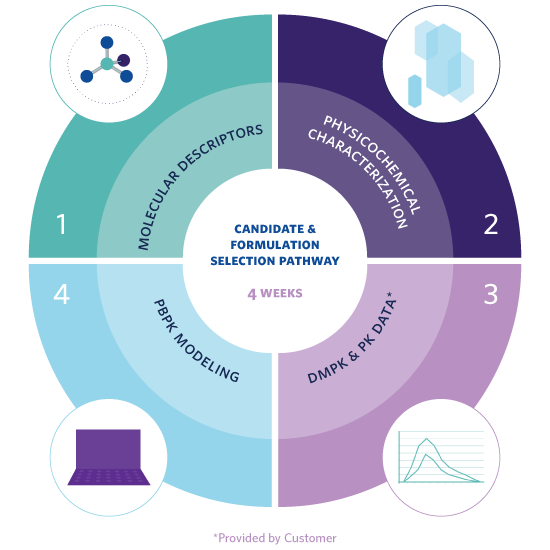 Molecular Descriptors – bRo5 in silico parameters that help map a molecule's challenges to inform candidate selection tests and pathway.
Physicochemical Characterization – Tailored in vitro assessment for protein degraders that defines the molecule's key properties and the challenges it will likely face when developing an oral formulation with adequate oral bioavailability.
DMPK and Preclinical PK Data – Review and advice partners on the testing required to estimate key absorption, distribution, metabolism and excretion (ADME) challenges that could affect oral absorption and the molecule's developability ranking.
PBPK Modeling – Creates robust in silico models based on the testing outlined in steps 1 – 3, to estimate candidates' oral absorption and exposure, and to predict in vivo performance of future preclinical and clinical formulations.
Candidate Selection and Formulation Pathway – Enables down-selection of the best oral drug development candidates, provides a recommendation for strategies to enable oral formulation, and rapidly supply prototypes.
Specialized Downstream CMC Capabilities – With a network of TPD experts, downstream bioavailability enhancement technologies, and state-of-the-art infrastructure to support processing of highly potent molecules, Catalent can help efficiently progress an oral preclinical TPD molecule from early phase development to clinic all the way into commercialization.
Comprehensive Assessment of the complexity of the protein degrader, and dedicated team of scientific experts to provide you with trusted support at each step of the drug development journey
Advanced Technologies to address complex formulation and drug delivery challenges and provide scaleable commercial solutions
End-to-End Potent Handling Capabilities to support formulation development, downstream dose form manufacturing, clinical packaging and commercialization of highly potent OEB 4 molecules
Integrated Solutions to simplify development, mitigate program risk and expedite time to clinic and beyond
De-risk & Simplify Your Oral Targeted Protein Degrader Molecule Journey with Catalent TPD Solution!