Orphan Drugs
FLEXIBLE SCALE.
ACCELERATED SOLUTIONS.
BROADEST ADVANCED DELIVERY TECHNOLOGIES.
RARE DISEASES AT A GLANCE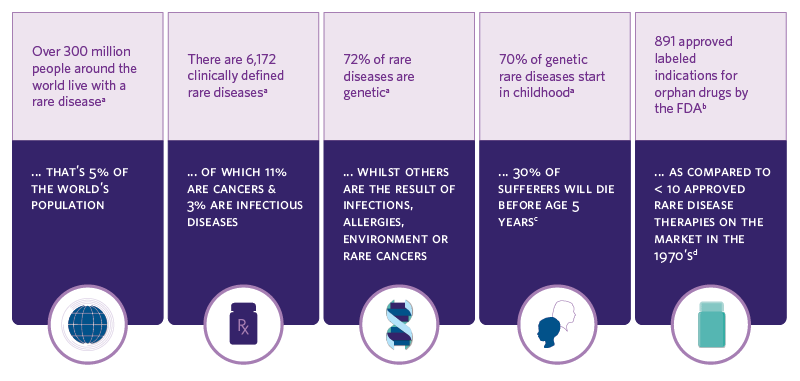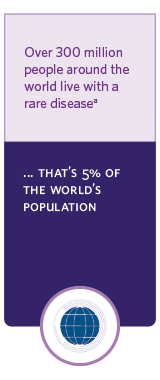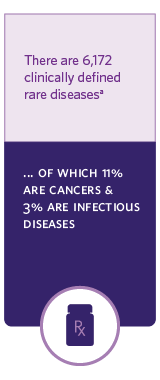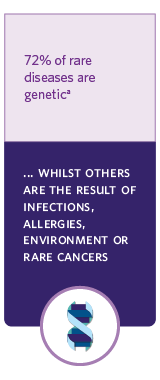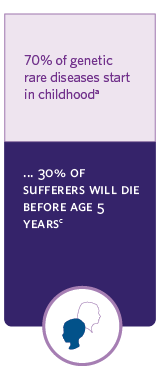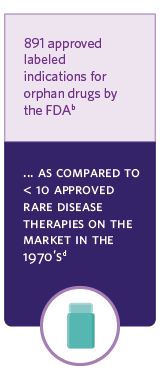 Catalent has extensive experience in advancing hundreds of orphan, rare, breakthrough and accelerated designation molecules employing multiple technologies. From formulation development to patient-focused dose design to flexible supply, partnering with Catalent reduces risk, accelerates scale-up and helps transform science and innovation into better real-world patient treatments.
From metabolic and neurological disorders to rare diseases linked to single gene deficiencies, Catalent has touched more than 100 orphan drug treatments over the past few years.
As the global leader in drug development, delivery and manufacturing solutions, Catalent has the customized scale and expertise to meet the aggressive timelines desirable for accelerated regulatory approval and commercial success of your orphan drug product across a range of treatment modalities.
The pressure to get orphan drug development right on the first attempt can be intense and stressful, especially if the therapy being developed is lifesaving and the first of its kind.
To successfully develop effective treatments for rare diseases faster, it is often important to supplement the innovator's expertise with broader experience in formulation and specialized drug delivery technologies. Working with the number one global leader in drug development can guide you to the right decisions at every phase. It is the best way to accelerate development, avoid costly rework and improve the quality of future treatments.
With over 85 years of experience developing world-class formulations for innovators around the globe, Catalent has proven scientific, regulatory, and product development expertise to support a vast range of orphan projects – from small molecule to biologics and cell and gene therapy.
Our deep expertise in solving simple to complex formulation challenges with commercially scalable technologies ensures effortless scale-up and timeliness of the manufacturing process.
Whether you have a small molecule, biologic, cell or gene therapy candidate, we offer integrated solutions to accelerate, de-risk and simplify your development path to clinic and beyond.
With state-of-the-art facilities, 25+ R&D teams and 40+ manufacturing and clinical locations around the world, we are ready to partner on delivering your orphan product to market faster, utilizing our site-to-site connectivity to enable a seamless continuum of service from development to supply.
ADVANCED DRUG DELIVERY TECHNOLOGIES
Catalent strives to develop patient centric and commercially successful treatments that deliver optimal outcomes for innovators, prescribers, and patients.
Our experience in developing thousands of therapies is backed by the broadest selection of drug delivery technologies and the ability to overcome a variety of drug delivery challenges including dose loading, taste masking, drug release and food effects.
FLEXIBLE MANUFACTURING AT CUSTOMIZED SCALE
Flexibility and adaptability are critical for accelerated programs (i.e., orphan drugs, fast track, breakthrough therapy, accelerated approvals, and priority review) and oncology drugs, as they require smaller batch sizes, expedited development and manufacturing timelines, and the ability to efficiently adjust production volumes to meet market demands.
With our tightly integrated network of development, clinical supply, and manufacturing sites, Catalent has the right scale and expertise to reduce risk between phases and meet the aggressive timelines desirable for accelerated regulatory approval and commercial success.
Catalent has invested in customized suites and end-to-end solutions to provide customers with ample flexibility to meet their specific project needs. We offer a variety of equipment scales to meet your demand, at every stage of the product lifecycle.
With our manufacturing expertise, breadth of scalable development and delivery technologies, and our exceptional quality standards, we can support your program requirements with reliable supply to global markets.
OPTIFORM and ONEBIO are registered trademarks and ONEXPRESS is a trademark of Catalent, Inc. or its affiliates or subsidiaries.
References:
a.) Nguengang Wakap, S., Lambert, D.M., Olry, A. et al. Estimating cumulative point prevalence of rare diseas­es: analysis of the Orphanet database. Eur J Hum Genet 28, 165–173. 2020: https://doi.org/10.1038/s41431-019-0508-0
b.) U.S. FDA, Orphan Drug List Access Portal. Searched on July 1, 2020: https://www.accessdata.fda.gov/scripts/opdlisting/oopd/index.cfm
c.) Spotlight on rare diseases, The Lancet Diabetes & Endocrinology, vol. 7 issue 2. 2019. pp: 75
d.) Parihar, Shweta, Jain, Vipresha. IQVIA Blog, "Orphan Drugs: A Spotlight on Rare Diseases," January 13, 2020: https://www.iqvia.com/blogs/2020/01/orphan-drugs-a-spotlight-on-rare-diseases