OVERVIEW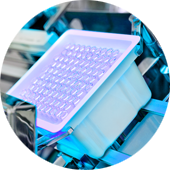 Catalent's drug product manufacturing can formulate, fill and package your product into a final vial, syringe or cartridge presentation, making it ready to use for the patient or health care professional.
Our experts have in-depth experience handling small molecules, biologics, and vaccines within our automated filling lines offering the highest degree of aseptic processing with your choice of isolator technology or restricted access barrier systems.
With packaging capabilities integrated within our facilities, we can reliably supply your clinical or commercial drug product needs by directly providing you with quality products ready for the patient.