Dry Powder Inhalers
FROM DEVELOPMENT TO FULL COMMERCIAL-SCALE MANUFACTURE AND PACKAGING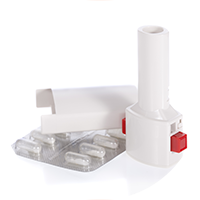 Catalent offers best-in-class commercial-scale powder and capsule manufacture for Dry Powder Inhalers (DPIs) out of the Boston, MA facility. The site is equipped with modern, industry-leading commercial spray dry dispersion, powder encapsulation and blister packaging technologies, as well as clinical scale manufacture and on-site QC labs. With a proven track record, our Boston-area team are experts in spray dry inhalation technology.
The Morrisville/RTP, NC facility, Catalent's global development and analytical center, complements the capabilities out of the Boston-area site, providing complete DPI development services from early pre-formulation to final product release testing. With industry-recognized experts in inhalation product development and characterization, Catalent offers end-to-end support throughout the product's lifecycle. In addition, the NC site also offers early clinical-scale DPI capsule filling for clinical phases I and IIa.
Featuring GEA Niro spray dry technology including PSD-7 scale, the largest size CGMP pharmaceutical use spray dryer in North America
Additional PSD-4 and PSD-1 scale spray dryers.
Top-tier capsule filling and blister packaging lines
Significant recent investment
Experience with DPI commercial launch and execution
Over 30 years of experience in supporting development of inhalation products
Supporting commercial, clinical and development-scale with flexible batch sizes
DPI Dose Form Development

Feasibility studies
API screening
Pre-formulation / solid state
Formulation of low- and high-dose powder systems
Formulation of carrier-based or pure drug aggregated systems
Evaluation of moisture effects on powder properties, formulation stability, and aerosol performance
Powder evaluation and characterization
Compendial analysis
Device evaluation, selection and testing
Method and process development, optimization, transfer and validation
Drug-excipient and drug-container compatibility
Characterization of aerosols
CGMP compliance

Commercial, Clinical and Development-Scale Manufacturing

Scalable manufacturing to take your product from early phase clinical to commercial scale
PSD-7, PSD-4 and PSD-1-scale spray dryers
Harro Höfliger high-speed encapsulation lines
Pharmaworks high-speed blister packaging lines and PharmaMED blister sleeving
Clinical-scale Harro Höfliger and Pentapack lines
Development-scale Harro Höfliger Omnidose and Mettler Toledo Quantos systems
Dedicated commercial and clinical-scale suites
ISO 8 production suites (previously class 100,000) with dedicated air handling
Warehousing
Vendor qualifications
FDA & EMA approved

Product and Analytical Testing

Manufacturing validation support (process and cleaning validation)
QC release testing
Aerodynamic & geometric particle sizing
Characterization of aerosols
Dose delivery
Stability studies (ICH and custom conditions)
Extractable and leachable studies
Elucidation of impurities and degradation products
Risk assessment testing and support
Microbial enumeration, sterility and endotoxin testing
PARTNERSHIP WITH TFF PHARMACEUTICALS
Catalent and TFF Pharmaceuticals have a collaboration agreement focused on the generation, testing and manufacture of dry powder formulations for a range of compounds through the application of TFF Pharmaceuticals patented Thin Film Freezing (TFF) technology. To learn more about the partnership and TFF technology, click here.