FlexDoseSM Services – Stick Pack Development And Supply
A COMPREHENSIVE SOLUTION TO BRING YOUR STICK PACK PRODUCT TO MARKET
Stick packs are the ideal packaging solution for a wide range of powder, granule, liquid and gel formulations*. They provide a convenient, portable unit-dose solution for prescription and over-the-counter (OTC) medicines, as well as nutritional supplements. Stick pack formulations also offer an innovative, hygienic way to extend tablet and capsule product lines.
With a decade of experience in developing, manufacturing and packaging stick pack products, Catalent is your ideal full-service partner for your product's success at every stage – from preformulation to development to packaged dosage form.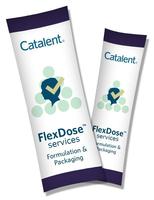 Differentiate your product and give your customers what they may be looking for. FlexDoseSM solutions can offer many advantages when compared to other oral dosage forms:
Flexibility – FlexDose solutions has an extensive range of different stick pack dimensions and formulation options to support your own custom design.
Improved Patient Experience – FlexDose solutions can offer a unique, patient centric solution with innovative packaging and a comprehensive range of formulation, including modified and extended release.

Convenient – compact, easy to carry and easy to swallow
Versatile – options for formulating high doses of actives, including different API combinations, modified release mechanisms, taste-masking technologies and mouth-feel improvements
Compliance – a great unit dose solution for powders, granules, and other formulations
Uniform dosing – a measured unit dose in every stick pack
Child-resistant – stick pack formats can be offered with a child-resistant feature
Customizable – stick packs can be designed to suit your specific requirements, promote your branding and enhance shelf appeal
Foil capabilities:
Paper layered foil
Aluminum foils
PE foils
Desiccant foils
Needled Foils
Laser perforated foils
Special layered foils
Dosing capabilities:
Dosing of powders and granules

Chamber dosing
Auger dosing
Bi-dosing

Special dosing solutions

Liquid dosing*
Dosing solutions for multiparticulates (e.g. mini tablets, pellets etc.)
Opening features:
Fancy cut
Child resistant/senior friendly via laser perforation
Individual opening feature solutions
Fosrenol® is marketed by Shire Pharmaceuticals as chewable tablets. Tablet strengths of 500mg, 750 mg and 1000 mg resulting in large tablets. Due to the API characteristics the "chewing experience" can be sub-optimal. The daily dose is 1500 – 3000mg representing 2 – 4 tablets per day.
FlexDose℠ Solutions has enabled Catalent to develop and produce a stick pack formulation that addresses the disadvantages of the chewable tablet and adds additional benefits:
No chewing necessary
Several ways of delivery possible; liquid or soft/solid foods
Compact, easy to carry
Hygienic single dose unit
Fosrenol® stick packs are successfully launched globally.
Catalent's experienced oral technologies team offers a comprehensive range of services and dedicated support throughout the entire product life cycle – from preformulation through development, manufacturing and packaging.
Development Services
Formulation Development

Development of Stick Pack Formulations (e.g. IR and CR Stick Pack Formulations for granules, mini tablets, pellets etc.)
Re-formulation
Taste Masking
Line Extensions and Lifecycle Management

Packaging Development

Primary and secondary packaging solutions
Packaging process optimization
Further Services
Dedicated stick pack development lines
Packaging under reduced humidity (20/20)
Serialization
Clinical Services (blinding, packaging, labeling, distribution)
Analytical Services
Our three oral stick pack facilities have strong track records for both quality and regulatory compliance.
Fosrenol® is a registered trademark of Shire Pharmaceuticals.
*Stirring and filling only, liquids must be preserved.