Bioavailability Screening
SOLVE YOUR MOST COMPLEX BIOAVAILABILITY CHALLENGES TO HELP DELIVER BETTER TREATMENTS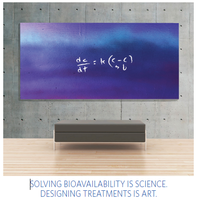 Poor bioavailability is a key challenge in oral drug development today that leads to high attrition rate.
Catalent's expertise in solving complex bioavailability challenges for thousands of molecules with the industry's broadest toolkit of bioavailability enhancing technologies will help get your molecules into clinic faster with the optimal therapeutic outcomes.
Catalent, where science meets art.
Contact us to learn more about how we connect our superior technologies with the optimal treatment for your patients.
SOLVE BIOAVAILABILITY CHALLENGES
Molecules with poor solubility or poor permeability can lead to costly and lengthy development programs or even cause project cancellations. Explore advanced technologies to overcome these challenges and bring your molecule to market faster. 
Catalent can help overcome complex bioavailability challenges and accelerate drug development process through superior formulation technologies and rigorous data-driven scientific approach, which has evolved by our global research and development teams with successful track record of optimizing thousands of molecules using the widest variety of advanced and proven formulation technologies in the industry.
Catalent's significant intellectual property, technology know-how and formulation expertise in oral, injectable and respiratory dosage forms can help your project succeed starting at candidate selection stage and all the way into clinical trials. 
UNDERSTAND THE MOLECULE FOR BIOAVAILABILITY TECHNOLOGY SELECTION
Solid state optimization
Compound characterization techniques to elucidate the best path forward for your drug candidate and to assess chemical and physical stability risks. Learn more
Pre-formulation testing
Pre-formulation testing is a scientific backbone on which clinical formulations should be based. Learn more
Formulation screening
Formulation screening for preclinical efficacy testing can maximizes solubility for meaningful results at a low cost. Learn more
Parallel screening technology
A "molecule-centric" approach to match the best formulation technology to your molecule and utilizes accelerated parallel screening. It can rapidly solve complex bioavailability and formulation challenges for early stage compounds. Learn more about Optiform® Solution Suite
BIOAVAILABILITY SOLUTIONS & TECHNOLOGIES
Scientific and Technology Advisory
Working with Catalent will give you access to a dedicated team of experts to help you navigate through each step of the drug development journey. This will enable you to decide what is best for the molecule and move from bench to the clinic quickly.
Track record of overcoming bioavailability challenges
20+ global research and development teams have optimized thousands of molecules and can help accelerate drug development process.
Advanced Technologies
Catalent's significant intellectual property in oral, injectable, and respiratory dosage forms and advanced drug packaging includes over 1,200 patents and patent applications. We offer the broadest and most comprehensive portfolio of formulation enabling and drug delivery technologies.
Integrated Global Network
In addition to our proven record of enhancing bioavailability, solubility and permeability, we are globally positioned to serve all your manufacturing and commercial packaging needs; providing integrated solutions to take your product from design, to clinical trial, to the market.