HEAD OF FORMULATION AND PROCESS DEVELOPMENT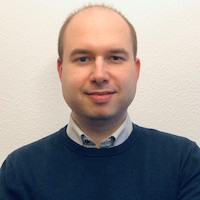 Dejan Lamesic is a Head of Formulation and Process Development at Catalent's Shorndorf, Germany facility. He attended the University of Ljubljana, Faculty of Pharmacy in Slovenia, obtaining his Master of Pharmacy degree and then a Ph.D. degree focusing on Quality by Design aspects of pharmaceutical excipients for development and manufacturing of solid dosage forms. His strong expertise in particle engineering and compaction process includes tableting and dry granulation.
Currently he leads a team of five talented Scientists, focusing on development of immediate and controlled release solid dosage forms for early and late stage clinical and market introduction phase using Quality by Design principles. He and his team continuously develop scientific, data driven approaches to understand drug products, and predict future formulation compositions and manufacturing processes.
Discover what drives Dejan's passion for pharmaceutical materials science and development. Access his published works that include peer reviewed articles and a patent.
Get to know this Catalyst in Drug Development.
Connect with Dejan Lamesic on LinkedIn
A CONVERSATION WITH DEJAN LAMESIC, MPHARM
Prior to your career at Catalent, what type of research did you do?
Prior to my career at Catalent, I worked as a researcher in pharmaceutical development of generic drug products. I focused on pre-formulation assessment of active pharmaceutical ingredients, excipients and intermediates, and reverse engineering of novel drug products by applying various analytical techniques. In addition, I was working on laboratory development of oral solid dosage forms, wherein I also utilized advanced process modelling for certain processes, mainly roller compaction. At the same time, I led specific practical courses for pharmacy students, which provided great opportunities to bring closer the industrial pharmaceutical development to the new generation of pharmacists and scientists.
What ways do you feel you (or your team) help drive Catalent's Patient First mission?
Patient First value is at the heart of Catalent Scientific Research and throughout the company. It starts at the initial project discussion phase with the partners. On the Product Development and Research side we want to understand the patient perspective by putting ourselves in their shoes. We identify the requirements that a specific patient group would have for a specific drug and then suggest and tailor the development of a dosage form which would increase patient compliance. With the customer we organize regular patient first meetings, where a customer presents to the wider Catalent Team the impact that Catalent´s developed and produced drug products had on their patients. We find these meetings very rewarding as they highlight the difference that we are making in patients' lives.
Getting product to market faster is always ideal, but product performance is the utmost importance. How has your team been able to help accelerate drug product development while maintaining consistent quality?
Over the past two years we have been building the science-driven formulation and manufacturing process design platform. It leverages data science and digital technology to develop and manufacture drug products. With this approach we have been able to enhance product understanding and predict formulation compositions, process parameters that would provide best chance for the intended drug product performance. In this respect we have been able to accelerate drug product development and decrease time for a first clinical supply. By leveraging past data and applying specific statistical tools we have been able to successfully troubleshoot and identify the variability of drug products in clinical stage and in commercial phase to facilitate consistent supply of quality drug products. We apply risk-based assessments within our quality risk management system to capture available knowledge about the drug product and identify points that require further development work to develop and produce medicines with the desired, consistent quality and performance.
What are your proudest achievements at Catalent?
I have been part of the Catalent family for the last three years and looking back there have been already many moments that I am proud of. First, I am proud of our product development team with the forward-looking mindset, agility and diversity of thought, continuously striving for progress, while having fun at the same time. This has supported an array of the initiatives that we have been working on (like science-driven formulation and manufacturing process design platform) to enhance product development for the benefit of the patients we serve and our client´s programs. I also find great satisfaction in solving challenges. One of the best moments was when we were tasked with a challenge relating to material variability which could endanger the clinical supply of a drug product. With our talented team we were able to setup the experimental design, analyse the materials with various analytical techniques, and create and present actionable conclusions within a week's time. It also increased the technical knowledge and experience that can be applied to future programs.
In your opinion, what are the key considerations for the pharmaceutical development of solid dosage forms in the near future?
There are many key aspects that will drive future of pharmaceutical development and manufacturing across different (advanced) drug delivery technologies. However, I believe there are two key considerations that will (continuously) drive the pharmaceutical development of solid dosage forms. First, the amount of data that is being generated daily has grown tremendously. Putting them in the right context at the right time, forming knowledge and prediction capabilities supported by data science, mechanistical concepts and digital technologies is and will be key to enhance and accelerate pharmaceutical development and manufacturing of drug products. Second, advancement of pharmaceutical materials with enhanced functionalities (e.g. to improve solubility, stability, improve content uniformity and flow at higher drug loads, enhanced processability, …) applied in drug products will be essential to support both batch-based and continuous-based development and manufacturing to accelerate drug product development. Particle engineering of materials will have higher impact to simplify manufacturing processes and improve quality of drug products. As one  example, with some of my colleagues from academia, we have recently contributed to this area by developing innovative (and recently patented) lactose particles, specifically intended for direct compression process, which can address requirements for improved processability.
ACCESS DEJAN'S LATEST CONTENT