ASSOCIATE SENIOR SCIENTIST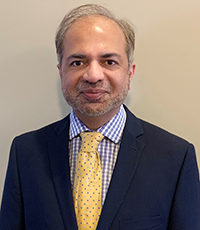 An active member of Catalent's scientific research community Mubashar Chughtai has over 10 years of experience as an Analytical & Bioinorganic Chemist. He is heavily involved in method validations and verifications of Omega-3 fatty acids USP<401> and has worked on the transfer of complex residual solvent methods, including USP<467> methods. Several cleaning validation methods were developed by him for active pharmaceutical ingredient, detergent and allergen trace residuals on manufacturing surfaces. He is currently a project lead and is involved in method transfers and verifications of multivitamin and cough & cold products within Catalent sites and its customers. Mr. Chughtai is based at Catalent's facility in Windsor, Ontario, and thrives on meeting challenges head on and facing them with sound scientific principles. Get to know this Catalyst in Drug Development today.
Key Expertise: Analytical Method Development and Validation
Connect with Mubashar Chughtai on LinkedIn
A CONVERSATION WITH MUBASHAR CHUGHTAI
What drives the passion in your work?
Meeting challenges at work of all kinds drives my passion. Whether it is an HPLC that has been over-pressured in a cleaning method and stalled, or a GC resolution that is not achieved in an omega-3 fish oil testing, or a GC Headspace analysis producing ghost peaks, it's always a good feeling when the issues are resolved and the science behind those issues is understood. The job of a scientist is to explain the science and be proud of it.
What do you enjoy about your career at Catalent?
I am learning new things on my job every day, troubleshooting, problem-solving, meeting challenges and deadlines, helping others and feeling humbled and keeping a positive attitude. I have really enjoyed my time working on Omega-3 projects over the past several years and new projects always keep me coming back with great reasons to look forward to the next day every day.
Tell us about the residual solvent testing you have performed at Catalent
Residual solvent testing is performed on all raw materials. USP <467> provides general guidelines and test method that can be used for the determination of the 3 classes of the residual solvents. The analytical procedures given is the USP chapter encounter many challenges when followed in the lab with HS-GC and a G43 column. I have utilized my skills to determine the optimal conditions for running these methods, utilizing selective columns. Additionally, I have developed and validated a few other residual solvent methods such as the residual solvents for raw materials of several potent drugs, like Dutasteride and Enzalutamide.