Catalent Spray Drying Technology
COMPREHENSIVE SOLUTIONS FROM DEVELOPMENT TO MANUFACTURING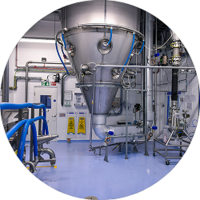 Poorly soluble compounds continue to make up a large share of the pharmaceutical development pipeline. Spray drying has been proven for particle size engineering and known to improve the bioavailability of poorly soluble compounds.
A spray dried dispersion (SDD) is an amorphous molecular dispersal of a drug in a polymer matrix, created by dissolving drug and polymer in a solvent and then spray-drying the solution.
Catalent offers spray drying solutions from early-phase development through to clinical supply, and scale-up to commercial volumes of finished dose forms. In 2019, Catalent expanded the capacity of its global spray drying operations through an agreement with EUROAPI, under which they provide Catalent with access to spray-drying manufacturing capabilities at their Haverhill, UK facility. With subsequent additional investment into the site to expand its SDD capabilities, and alongside Catalent's global network of downstream dosage form manufacturing facilities, Catalent is well positioned to serve our global customers with end-to-end SDD solutions.
1
2
3
DEVELOPMENT
SAN DIEGO, USA

Buchi B-290
ProCepT 4M8-TriX
GEA Niro SD Micro
GEA Niro Mobile Minor (x2)

NOTTINGHAM, UK

Buchi B-290
ProCepT 4M8-TriX
GEA Niro SD Micro
GEA Niro Mobile Minor (x2)

COMMERCIAL
HAVERHILL, UK

GEA Niro PSD2
GEA Niro PSD4
A widely used processing technology, spray-drying offers numerous advantages, including:
Enhanced bioavailability of poorly soluble compounds
Consistent particle size distribution
Long-term stability
Robust, scalable process
Higher drug loading
Enables taste masking or controlled release dosage forms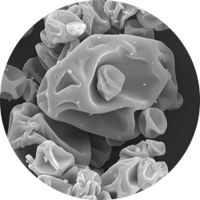 Expertise in formulation and process development is combined with proven capabilities in spray drying to overcome difficult product development challenges.
Catalent's solutions include:
Full analytical and physical characterization
Pre-formulation testing, formulation, and process development
Organic and aqueous solvent processing of potent and non-potent molecules
R&D and cGMP manufacturing: From early development through to early clinical trial supply (Phase 1 and 2a)
The broadest selection of downstream processing technologies including granulation, roller compaction, tableting, and stick pack packaging.
LATE-PHASE AND COMMERCIAL SCALE CAPABILITIES
Catalent offers seamless transition and tech transfer from our early-development sites to strategically located commercial finished dose manufacturing at sites in Europe and the U.S.
Key scale-up and commercial capabilities include:
Formulation and process optimization
Organic and aqueous solvent processing of potent and non-potent molecules
Integrated teams and process alignment for seamless transfer and scale-up
cGMP manufacturing (Phase 2b to commercial scale)
Flexibility to scale solutions from orphan programs and pediatric variants to large-scale blockbuster products
Full range of granulators, blenders, tablet presses and encapsulators to support a diverse variety of finished dosage forms
Clinical to commercial primary and secondary packaging solutions including bottles, blisters and stick packs.
WHY CATALENT SPRAY DRYING TECHNOLOGY?
Faster to Market – Move quickly and efficiently from early development through the final phases of process refinement to commercial-scale manufacturing
Deep Expertise – Highly skilled scientists and engineers with decades of solid dose and spray drying handling experience
Keep it Simple – Integrated teams to support tech transfers and scale-up to commercial volumes, with simplified project management protocols that reflect our experience across many molecules and dose forms
BIOAVAILABILITY ENHANCEMENT SOLUTIONS
The fastest and most effective way to unlock the potential of your molecule is to follow a rigorous, data-driven, parallel screening of appropriate available formulation technologies. We developed OptiForm® Solution Suite to do this quickly and efficiently for small molecules and OptiForm® Solution Suite Bio for your large molecules.
Other Bioavailability Enhancement Technologies:
Catalent can partner with you to accelerate and optimize your molecule through the clinic and all the way to market, ensuring robust and scalable formulations, and integrated clinical manufacturing to accelerate your program with full clinical packaging and distribution services as well as scale-up and commercial supply.