Extractable & Leachable (E&L) Services
FROM MANUFACTURING TO CONTAINER CLOSURE SYSTEMS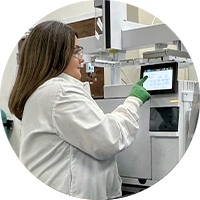 A Partner with Expertise Since 1991, Catalent's small molecule analytical team has developed and applied thousands of analytical methods to help customers progress their drug candidates. Our small molecule E&L analytical projects are managed through our facility in Morrisville, North Carolina, and leverage Catalent's network of over 3,000 scientists and technicians, combining the benefits of a focused, single-site solution, with the scientific resources of a multi-disciplined product development and research network.
Contact between drug product constituents and the materials used in the manufacturing and packaging has the potential to introduce leachable compounds into the drug product during storage. Through the use of well characterized materials that are suitable for their intended use for manufacturing and packaging, the risk of leachables is minimized to better ensure the quality and safety of the drug product.
Extractables are the compounds which make up the materials used during the manufacturing, storage, and packaging of the drug product. Leachables are a subset of the extractables that migrate into the drug product through product contact with these materials.
Extractables Characterization Manufacturing equipment, intermediate storage containers, single use items, and primary and secondary container closure systems are characterized to provide a comprehensive profile of extractable species. Extraction solvent systems are employed which have the same propensity to extract substances as the dosage formulation. Quantitation and identification are performed for volatile, semi-volatile and non-volatile extractables above an appropriate reporting threshold. Peak identification is conducted using National Institute of Standards and Technology (NIST), Wiley, internal libraries, and manual interpretation.
Gas Chromatography-Mass Spectrometry:
Agilent GC 7890 and 8890 Series
Agilent MS 5975 and 5977 Series
Liquid Chromatography-Mass Spectrometry:
Agilent LC-1200 series with DAD
Agilent MS-6520 (Accurate Mass Q-TOF)
Gas Chromatography w/Direct Inject & Headspace
Agilent GC 7890 and 8890 Series
Agilent MS 5975 5977 Series
Autosampler PAL RTC 120 and PAL 3
Leachable Simulation (Migration) Studies are performed to evaluate leachable profiles through aging of the packaged drug product under accelerated temperature and time conditions. Migration studies identify the leachable subset of compounds to target for method development and validation.
Comprehensive Method Development and Method Validation Studies are performed per ICH guidelines for analytical methodologies to quantitate leachable species. Leachable stability testing is performed on registration batches over the drug product's shelf life to demonstrate control of leachables.
Customized Approach to extractable and leachable study design from manufacturing through to registration batch testing and filing.
Expertise highly skilled Ph.D. scientists with decades of experience in extractable and leachable testing and regulatory requirements for filings.
Complete Suite of Analytical Services from early preclinical through clinical and commercial stages, Catalent delivers a single-provider solution for all your analytical needs.