Catalent Xpress Pharmaceutics®
Integrated Development Offering to Facilitate Adaptive Trials and Accelerate Phase 1
Phase 1 clinical studies have traditionally been impeded by the reliance on two or more fixed dose strengths, and an inability for the clinic to dynamically adjust dosing based on clinical feedback. Significant opportunity exists therefore to optimize the traditional vertical development approach by increasing flexibility in dose selection.
Introducing New Catalent Xpress Pharmaceutics®, a more advanced development offering that integrates formulation development with clinical manufacturing, regulatory support and clinical testing, to help achieve flexible and efficient First-in-Human studies and fast development. At the center of this program is the ability to adjust both formulation and dose based on real-time clinical data, using on-demand manufacturing approaches and adaptive clinical design protocols. This offering helps optimize and accelerate overall development process by reducing stability requirements, which can lead to significant reductions in costs, time and the amount of API necessary.


4 to 6 Months vs 9 to 12 Months (Traditional CMC Model)
Quick to First-in-Human and proof of concept studies using on-demand product manufacturing close to the point of administration
Utilizes scalable formulations for quick formulation and dose adjustments at the clinical site
Significant savings on both API and time
Allows better decision making using real time clinical data
Integrated approach that supports customers' regulatory filing strategies.
HOW DOES CATALENT XPRESS PHARMACEUTICS WORK?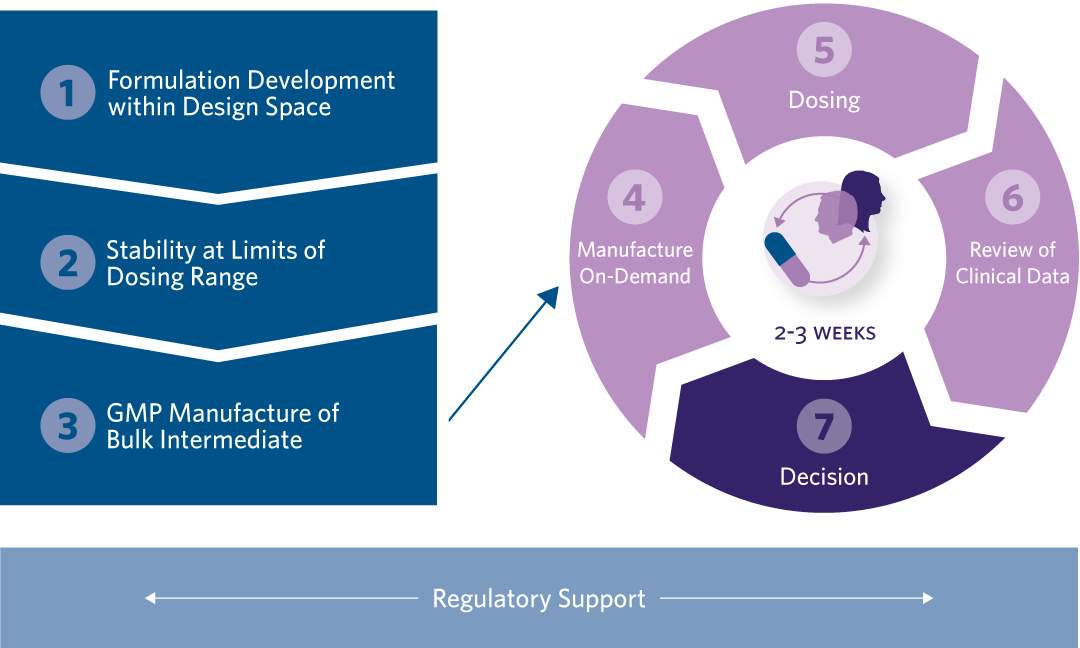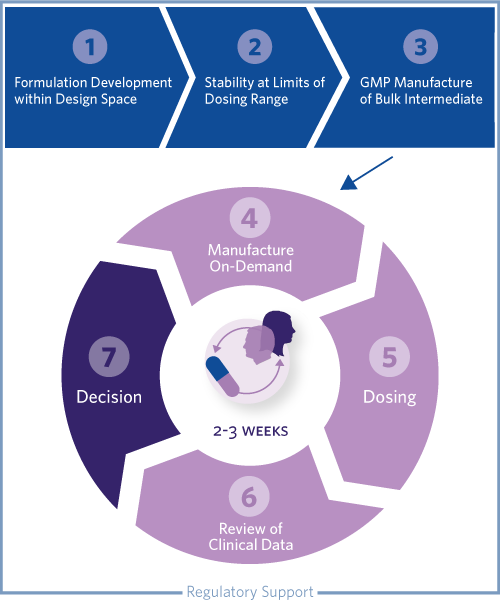 1. Formulation Development
Phase-appropriate, intermediate products are designed using a wide range of technologies, both simple or bio-enhanced (i.e., spray drying, hot melt extrusion or lipid-based)
Mapping of the 'formulation design space' enables flexible choice of formulation, the dose, or both.
2. Stability of Generated Products at the Limits of Dosing Range
Sufficient 'in-use' stability is established in the intended presentation format (e.g, blend in capsules/bottles) at the limits of the dose range to be evaluated.
3. GMP Manufacture of Bulk, Scalable Intermediate
Scalable, single-batches of intermediate formulations are manufactured and supplied for clinical testing.
4. 'On-Demand' Manufacturing at the Clinical Site
The bulk intermediate product is filled on-demand into capsules or bottles by the contract research organization's (CROs) Phase 1 Clinic.
5, 6, & 7 Iterative Dosing, Review of Clinical Data, and Decision Making
Dose increments are established based on emerging clinical data
Iterative cycles of up to three weeks between cohort dosings.
8. Regulatory Support
Focus on speed-to-clinic by identifying data that can be generated on non- clinical batches
Preparation of CMC section of regulatory submission with inclusion of justification for use of dose ranges, to allow rapid changes to dose during the clinical trial, alleviating need for interactions with the regulatory authorities.
WHY PARTNER WITH CATALENT?
Catalent specializes in comprehensive development, analytical and bioavailability enhancement, and has a proven track record of optimizing thousands of molecules. With our rigorous data-driven scientific approach, deep development expertise, robust regulatory support and integrated collaboration with clinical research organization (CRO), we can help accelerate your molecule through phase 1. We have a dedicated scientific team to guide your molecule through the best development pathway, and offer customized solutions from pre-clinical through to clinical scale-up and launch to fit your needs.
AFTER YOUR CATALENT XPRESS PHARMACEUTICS PROGRAM
Xpress Pharmaceutics is a trademark of Catalent, Inc. or its affiliates or subsidiaries