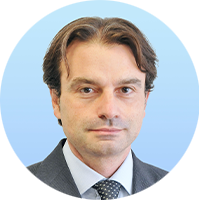 LORENZO CARLETTI
SENIOR VICE PRESIDENT, GLOBAL OPERATIONS, PHARMA AND CONSUMER HEALTH
Lorenzo Carletti was named Senior Vice President Global Operations, Pharma and Consumer Health in October 2021.  Mr. Carletti joined Catalent in July 2013 as General Manager of the Aprilia site and was then promoted to Vice President, Operations in October 2016 with additional responsibilities added over time for sites in Europe, North and South America, Asia, and Australia. He also acted for a period as Interim Head of Technical Operations.
Prior to joining Catalent, he had roles of increasing responsibility in manufacturing, operational excellence, engineering, procurement, and supply chain with Procter & Gamble, Pfizer, Haupt Pharma (now part of Aenova Group), and Dompé.
Mr. Carletti received a degree in Engineering from the University of Rome "La Sapienza" in 1997 and a Master's of Business Administration from the Open University Business School in 2013. He is also a certified APICS professional.