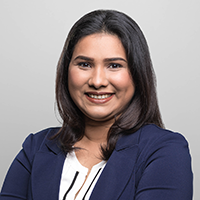 Dr. Mhashilkar is a Group Lead at Catalent's St. Petersburg, Florida facility. She earned her MD at Grant Medical College, an MPH and doctorate at the University of South Florida and completed her MBA at Florida Southern College. Amruta specializes in Lipid based Softgel, OptiShell™, OptiGel® DR and Liquid Filled Hard Shell Lipid based Formulation for immediate and extended release. She also works on process development and regulatory CMC support for customers. She is an expert in optimizing process development and technology transfers of client-related projects. She leads a team of five versatile scientists who execute variety of different technology projects.
Discover what drives Amruta's passion for Lipid based formulations scale-up manufacturing and how her team provides a quality by design approach. Access her published works that include 5 peer reviewed articles.
Get to know this Catalyst in Drug Development.
Connect with Amruta on LinkedIn
A CONVERSATION WITH AMRUTA MHASHILKAR
As a lead scientist at Catalent, what does that entail?
My team and I are responsible for programs with development of lipid-based and hydrophilic softgel formulations for IND and NDA, and execution of associated Product Development formulation development activities, for New Product Introductions (NPIs) and existing products, from early-stage through implementation into Production. We provide support and technical leadership for the timely development of commercially viable and robust formulations for site NPIs, including pre-formulation activities, fill formulation development, shell selection or development, prototype manufacturing and clinical/registration/ pre-validation batch manufacturing. We help develop and optimize manufacturing processes and technology transfers of client-related projects.
I support and mentor new scientists with the formulations and process design for batch manufacturing. I also specialize in process design for client products that need to file in various regulatory agencies for launch in the commercial market, and also post approval changes.
You specialize in softgel formulation, what challenges can lipid-based formulations address?

New Chemical Entities (NCEs) that have low solubility or poor permeability are good candidates for the lipid-based formulations. Currently, up to 70% of the NCEs are poorly water soluble. Lipid-based formulations show good developability, good manufacturability and provide an uncompromised in-vivo performance by giving a fast release of the fill formulation. Patient compliance and adherence is higher with a softgel format. Lipid-based formulations enhance the bioavailability of molecules as they leverage the body's lipolysis mechanism to absorb the drug.
What are recent key developments in lipid-based drug delivery?
I worked on the first hormone softgel for vaginal delivery with a unique formulation, shape and process. The Catalent St. Petersburg Product Development teams have successfully launched the OptiGel® Lock and OptiGel® DR technologies which in combination with lipid formulations provide a whole new avenue for new products to be launched in the market.
What are your thoughts on the future of softgel drug delivery?
Softgels are generally considered immediate release but extended release is the future of softgels under development. The matrix of the extended release softgels is a unique blend of hydrophilic and lipophilic excipients to give a controlled release of drug over time. The matrix could be eroding, a diffusion or a combination of both. Currently my work focuses on developing controlled release formulations for softgel, OptiShell® and liquid filled hard shell capsules.
Can you explain how you or your team support NDA, ANDA, ANADA
We provide a comprehensive product development report based on the Quality by Design approach that lays the foundation for the customer filing. We support the writing of the IND, pre-NDA CMC briefing documents, pre-NDA and DMF documentation. We support the answers for all the information request related with the DMF and CMC process.
ACCESS ​AMRUTA MHASHILKAR'S WORKS