COMMUNITIES
With more than 50 sites across four continents, we touch thousands of people every day—thousands of communities every day. Through our extensive employee-driven and philanthropic programs, we help our communities thrive.
CATALENT CARES

Catalent Cares is our way of connecting Catalent team members—our time, talents, and resources—to our communities. Through meaningful partnerships, we're able to accomplish two main objectives:
Improve patient health
Expand access to science, technology, engineering, mathematics (STEM) education, training and job placement.
We connect with our local communities through a suite of Catalent Cares programming, including volunteering, grants and strategic partnerships for health and patient-related services, and STEM. These community relationships energize our people and strengthen our culture.
Each Catalent site has at least one community ambassador, who coordinates with our Corporate Responsibility team and serves as a liaison, connecting employees to local causes and nonprofits.
MATCHING GIFTS
Catalent's year-round Matching Gift Program was designed to engage and encourage team members to give to their favorite charities and causes. The program provides a 1-for-1 corporate match up to USD 2,000 for personal employee contributions to eligible nonprofit organizations each year.
Catalent's year-round Employee Volunteer Grant (EVG) program recognizes and encourages employee volunteer activities by providing corporate grants to nonprofits where employees are regularly involved. The Individual EVG provides USD 500 each year to an eligible organization where an employee volunteers at least 40 hours. Team EVG provides up to USD1000 to an eligible organization where at least three full-time employees volunteer in a project.
VOLUNTEERING
Each year, we celebrate two Company-wide volunteer events to engage and unite our global community:
Catalent Month of Service (CMS), our month-long signature volunteer event held in November each year, activates employee volunteer teams from sites around the world. In November 2022, we celebrated our sixth annual Catalent Month of Service, our largest celebration to date. 3700 employees participated in 100 community projects and touched more than 20,000 lives. The 100 projects completed over the course of the month included a mix of volunteering and fundraising efforts in which Catalent sites partnered with organizations benefitting a wide range of causes.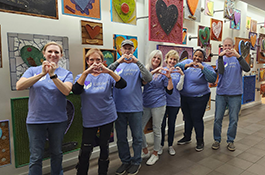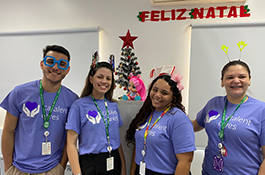 CMS 2022 was our biggest Catalent Month of Service yet. These are just a few of the numbers that highlight our collective success.
Catalent also celebrates Earth Month every April, leading up to International Earth Day on April 22, to shine a light on our commitment to minimize the environmental impact of our operations. Employees across the globe volunteer to revitalize green spaces, eliminate waste, reduce carbon emissions, and host recycling drives, within the site and also in local communities.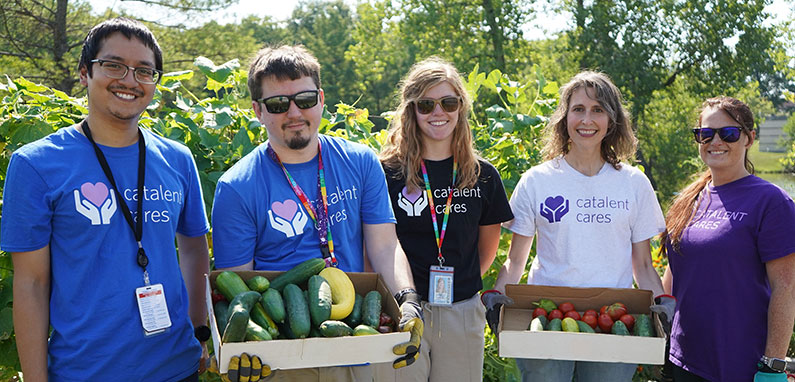 Feature: Our Catalent gardening club in Kansas City, MO has donated over 1,100 pounds of fresh fruit and vegetables in the last three years to support food security and nutrition in the Kansas City area. Through their strong partnership with
Harvesters
they have been able to make a meaningful difference to peoples' lives.
Click here
to watch a news clip where the Catalent Gardening Club was highlighted.
STRATEGIC PARTNERSHIP
At the corporate level, we manage partnerships with national and international nonprofit organizations that improve patient health and expand access to STEM education and training.
At the individual site level, community ambassadors and employee resource groups identify and invite nonprofit, community-based organizations to apply for support.
Our relationships with each organization range from new and innovative partnerships to grants that have been established for many years. We aim to leverage the skills, products, services, and thought-leadership of our business units and employees to make an even greater impact in the community.
COMMUNITY GRANT PARTNERSHIP HIGHLIGHTS
A partner serving patients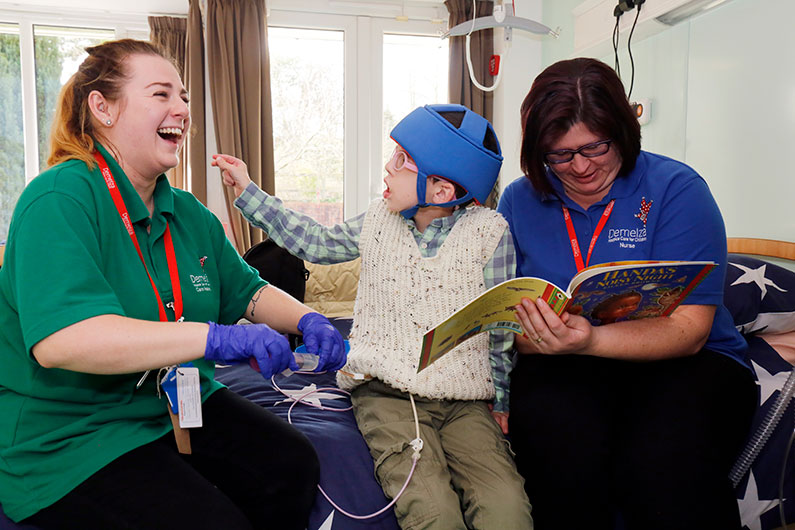 Catalent's Dartford, UK site has had a long-standing relationship with the Demelza Hospice Care for Children. Catalent's most recent grant to Demelza supported the installation of a Mobile Magic Carpet that provides sensory play and projects interactive games and images for children with complex medical needs.
(Photo sourced from Demelza)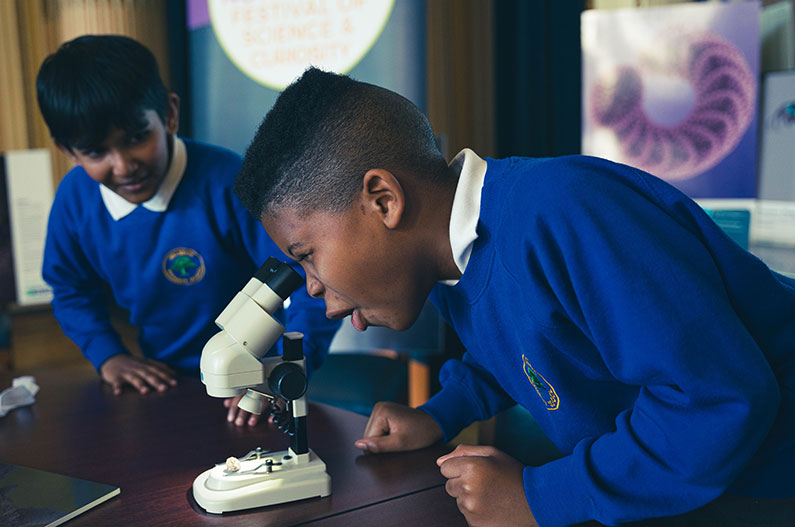 Catalent's Nottingham, UK site supports the annual Nottingham Festival of Science and Curiosity held in February to inspire and engage young people, families and communities in STEM conversations based on their interests and curiosity, especially for people who feel that 'science isn't for them'.
(Photo sourced from Nottingham Festival of Science and Curiosity)
DISASTER RESPONSE & UKRAINE HUMANITARIAN AND REFUGEE RELIEF
When our communities are affected by natural disasters and catastrophic events, we support local relief efforts through corporate grants, matching gifts, and volunteering. Catalent volunteers work with disaster relief organizations in a variety of ways, such as packing meals, promoting blood drives, and assisting with the physical cleanup of homes and neighborhoods.
In response to the humanitarian and refugee crisis escalating from the war in Ukraine, Catalent granted more than $700,000 to partners around the world providing aid to people affected and displaced by the crisis through employee matching gifts and direct grants.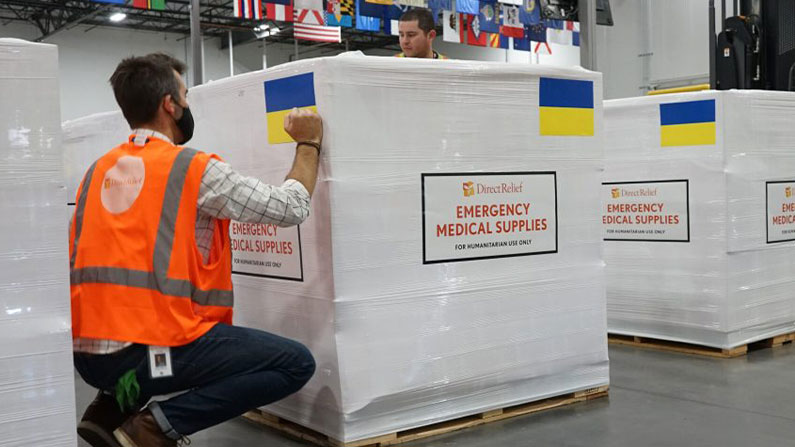 Catalent's grant to Direct Relief, one of the largest providers of medicines to Ukraine, supported the organization's early and continued response providing medical assistance, including trauma kits, cancer drugs, insulin, antidotes used in chemical attacks, and other critical medicines, to the Ministry of Health and other healthcare providers.
(Photo credits: Lara Cooper/Direct Relief)