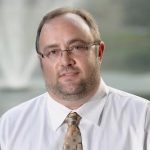 Christopher Hepler is Director, Biologics Lab Operations at Catalent's Biologics division in Morrisville, NC. He received his bachelor's degree in Animal Science and his master's degree in Physiology from North Carolina State University.
Christopher specializes in potency assay (Bioassay, ELISA) and molecular biology (PCR/qPCR and cell engineering) development and validation for product release and stability testing. He will be giving a virtual presentation at the upcoming BEBPA virtual conference "Conversion of a Potency Assay from Cell-Based ELISA to AlphaLISA: Taming a Disturbance in the Force".
Discover what drives his passion for development and optimization of bioassays. Access his works that include nine peer reviewed articles and additional content to help you in your research development.
Get to know this Catalyst in research development.
Connect with Christopher Hepler on LinkedIn
A CONVERSATION WITH CHRISTOPHER HEPLER
Oncology is an area where innovation is needed to treat diseases. What role do biologics play in supporting that goal?
Biologics continues to support oncology research through various means. Therapeutic antibodies have been highly successful in treating several types of cancers, and the field continues to expand. Gene therapy, where genes are introduced into cells to treat or prevent disease, is an exciting area that holds tremendous promise.
Explain your approach to achieving high quality scientific results.
Our approach is based on three things: People, Equipment, and Systems. High quality scientific results begin with people. The scientists on staff are highly trained. They understand what they are measuring and why they are measuring it. The second part of is equipment. Our tools need to be current with today's technology while also being cleaned and calibrated appropriately. The third component is quality systems that ensure data integrity and compliance.
What type of technologies do you and your team utilize to stay on top of industry trends?
The Biologics department utilizes Hamilton automated liquid handlers to support industry trends such as miniaturization and batching of samples. We also test new technologies such as Acoustic Liquid Handling and automated cell banking to stay current on industry trends.
Using the AlphaLisa platform has many benefits. How specifically does it compare to traditional assay development?
AlphaLISA immunoassays offer advantages over other immunoassay formats. One way is that AlphaLISA assays do not require any wash steps, have fewer protocol steps, require less sample, and provide a large dynamic range. They are also automation friendly. 
What excites you the most about working at Catalent?
The most exciting aspect of working at Catalent is the Patient First mindset. Across the large network of Catalent sites, the mindset of what we do daily improves patient comfort and care.​
ACCESS CHRISTOPHER'S LATEST CONTENT