DIRECTOR, SCIENTIFIC COMMUNITY AND OFFICE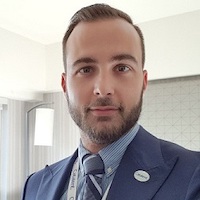 Nicolas Thurin has more than 15 years of experience as a scientist with a focus in analytical product development on both small and large molecules. During his nine years at the Catalent, Brussels site, Thurin specialized in the manufacturing of sterile injectables and developed and managed Catalent's analytical product development and QC laboratories, bringing many customer projects to fruition. Since 2017, Thurin has been developing and leading Catalent's analytical network. Since 2020 he has taken overall responsibility for Catalent's scientific community and office.
Thurin holds a doctorate in molecular biology from the University of Brussels, Belgium, where his multi-disciplinary research focused on the evolution of collaboration in animal societies, including its genetic origins.
Discover how openness, diversity, passion for excellence, people development and patient first values drive Thurin's commitment to develop and deliver reliable treatments to patients. Learn how leveraging the experience and expertise of our scientific community allows Catalent to deliver products faster that help people live better and healthier lives.
Connect with Nicolas Thurin on LinkedIn
A CONVERSATION WITH NICOLAS THURIN
Tell me more about Catalent's scientific community. How does it overcome obstacles in developing new drug products?
Our industry is seeing an unprecedented pace of change and innovation, and this change is only going to accelerate over the next years as molecules, modalities and technologies are exponentially growing in complexity. Our partners task us with more and more complex development, delivery and manufacturing challenges. To exceed their expectations, we have developed over the past years a scientific community that is connected, puts scientific and technical excellence at the vanguard of what we do, and shares knowledge and learning, regardless of geographic, cultural, or academic boundaries. Each Catalent scientist experiences the benefits of this broader community, strengthening and broadening scientific competencies, developing connections with peers across sites and working as part of one collaborative scientific team. We have full access to the scientific and technical resources needed to stay at the forefront of our scientific disciplines to resolve the most complex challenges. 
Catalent is attached to promote diversity and include everyone. What does this mean for you?
I have the privilege to live in Brussels, the European capital and the second most cosmopolitan city in the world. Every time I travel, either for personal or business reasons, I find meeting local people and learning about their different perspectives, backgrounds and cultures, is always a rich experience. In front of any scientific challenge, a diversity of ideas will allow us to progress faster, to be more creative, and as a result to identify the best solution. Catalent has an impressive diversity of talents and technologies across more than 48 sites. Leveraging this diversity to propose the best solution to our customers and patients was an obvious, "no-brainer" for me. I am proud to work for a company that values diversity and includes everyone to make them stronger every day.
Before leading Catalent's scientific community, you managed product development and quality control laboratories on our Brussels site. What were the challenges that you faced to develop new products and how did you tackle them?
Providing the best treatment to patients has always been our first objective. Every scientific project is a unique challenge as each molecule presents specific requirements. This requires both solid scientific foundations and strong operational efficiency. Developing and optimizing a reliable process requires understanding the molecule along with its critical quality attributes. We count on talented scientists engaged to deliver fast, innovative and reliable treatments. Close collaboration between all our scientists, across both product development and quality departments, allows us to strive to overcome the challenges related to the development of new products and exceed the expectations of our partners.
ACCESS NICOLAS'S POSTERS AND PRESENTATIONS